Grooming is not related to dogs, but cats also need grooming to maintain a healthy coat and minimize shedding. Mostly, cats are notorious for their behavior at the groomer's visit. Not only do these fierce creatures create a mess, but they also increase the grooming cost by scratching and hissing. Therefore, before a groomer visit, you might think about the cost of grooming a cat.
So, how much does it cost to groom a cat? The cat grooming cost depends on your area and the type of demanded services. On average, the price of cat grooming ranges between $30 to $70. Often, groomers charge more for scratching and hissing cats. Grooming a cat with bigger fur may cost more since it takes longer.
If you want to know the average cost of cat grooming and the price of different offered services, this post is for you. Read it till the end and discover how much it cost to groom a cat.
How Much Does It Cost To Groom a Cat At PetSmart?
PetSmart is a popular pet grooming salon offering cat and dog grooming services. If you want to avail of their services and wonder how much it costs to groom a cat at PetSmart, here's the answer. The prices of cat grooming at PetSmart depend on your requested service. On average, the cat grooming at PetSmart costs between $15 to $60.
For example, cat bath services start at $30, and full cat grooming service starts at $60. If you want to book spa treatments and other styling services for your cat, you'll be charged more as per demanded service.
However, it is difficult to assume the exact cost since full grooming prices depend on cat breed, size, weight, fur length, and service time. Smaller pets may cost lesser than larger breeds.
The table below shows the average starting cost of different grooming services at PetSmart in 2022.
| | |
| --- | --- |
| Cat Grooming Services at PetSmart | Average Cost |
| Kitten bath and brushed | Starting at $15 |
| Kitten bath and trimmed | Starting at $30 |
| PAWdicure | $20 |
| PAWdicure plus | $26 |
| Full cat grooming service | $60 |
How Much Does It Cost To Groom A Cat at Petco?
If you want to keep your cat's general appearance in a top-notch place, you should invest in a high-quality grooming service. Petco is a health and wellness company that focuses on improving pets' lives. Before you visit Petco, you might wonder how much it costs to groom a cat at Petco? On average, a standard-sized cat's bath service price starts at $40 in Petco. However, the full grooming service of a kitten or standard-sized cat starts at $55.
Other basic upgrades include custom shampoo or conditioner, teeth brush, nail buffing, gland expression, nail polish charges ranging between $5 to $15.
Premium upgrades, including de-shedding and flea relief, range between $15 to $30. Again, the exact cost depends on your demanded services cat's breed, size, weight, and temperament.
The table below shows the starting cost of different cat grooming services offered at Petco.
| | |
| --- | --- |
| Cat Grooming services at Petco | Starting price |
| Cat bath and brush | $40 |
| Full cat grooming | $55 |
| Nail trim | $10 |
| Teeth brush | $12 |
| Gland expression | $10 |
| Ear cleaning | $10 |
How Much Does It Cost to Sedate a Cat For Grooming?
Cat grooming is more challenging than dogs because these furballs don't like being held in different grooming positions. Often, cats need sedation to perform risk-free grooming at the salon. The actual sedative grooming cost depends on the type of sedative your cat will get.
Some groomers use vet-recommended over-the-counter sedative medicines. Others use non-medicinal sedation, including herbs, CBD oils, synthetic pheromones, and body wraps. These sedation methods don't cost much, but sometimes cats need general anesthesia for matted fur, parasites, and lacerations in extreme cases. It may cost between $200 to $300. Only a licensed vet should sedate a cat using an injection or gas inhalation.
Is Getting Your Cat Groomed Worth It?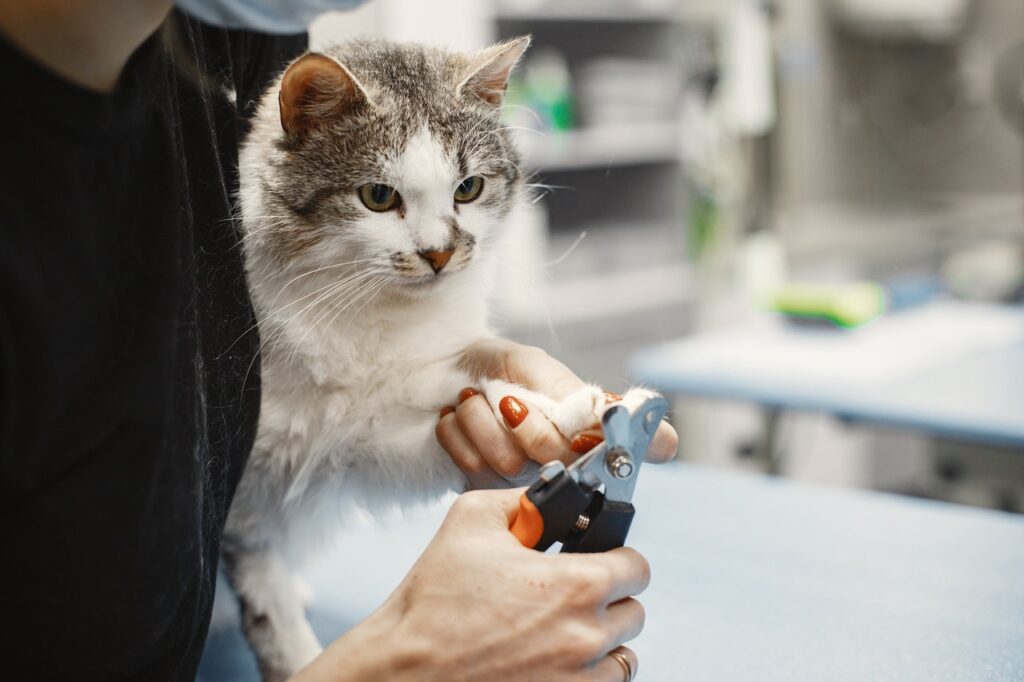 Yes, getting your cat groomed is worth it since it is crucial for its overall health. Cats with long and medium-sized fur should be brushed daily to reduce shedding and matted fur. You might have seen your furry friend busy grooming itself every time. Self-grooming is good for cats, but it is not compared with a make-over that it will receive at the salon. Your cat can ingest hairs if not de-shed properly. These ingested hairs can block its intestine. However, regular grooming will remove dirt and loose hair, smoothens the coat, and prevent an invasion of ticks and fleas.
Why Is Cat Grooming So Expensive?
You might wonder why cat grooming is so expensive. The high cat grooming prices are due to this fierce pet's temperament and thin skin. Usually, cats are too moody and hard to handle in different grooming positions. Therefore, it makes grooming time-taking since the thin skin of the cat is susceptible to scrapes and skin tears.
How Often Should A Cat Be Groomed?
Cats should be groomed once every four to six weeks. In addition, groomers should be careful since the thin cat fur makes it susceptible to skin tears and scrapes. Too often, grooming your cat leads to fur thinning, bald patches, and skin irritation. However, daily brushing will not harm your cat.
How to Save Money On Cat Grooming?
You can save money by grooming your cat at home. Invest in a regular grooming kit, including brushes, shavers, de-shedding tools, bath items, and nail clippers. Perform basic grooming tasks at home. If your cat is easy to handle at home, you should visit groomers once or twice every 6 months. However, you should never take the risk of injuring an aggressive cat being hard to handle. Otherwise, you will be more likely to spend your saved money on vet visits.
Final Thoughts
Cat grooming is crucial for maintaining the healthy coat of your pet. If you are worried about how much it cost to groom a cat, read the average rates mentioned in the post. You'll get a rough idea about what to expect before visiting a groomer's place.