Pet grooming is an essential routine care for optimum health and look. If you neglect grooming, your dog may suffer matted hair, frequent shedding, and heavy infestation by pests.
Unfortunately, not everyone has the expertise, time, and tools for grooming. That's where the services of professional pet grooming salons and companies such as Petco.com come in.
All About Petco.com
Petco has been in the pet grooming industry since 1965. At the moment, there are about 1500 Petco stores all over the US, Puerto Rico, and Mexico. The Petco stores stock a wide variety of pet supplies and even have over 100 veterinary hospitals.
In addition, some Petco stores provide dog training, grooming, veterinarian care, and vaccination services.
You can book an appointment through their online website or App.
Petco Grooming Services and Prices
The table below summarizes the bath and haircut prices for mixed dog breeds in January 2023. Note that prices may change and may vary depending on the location. For the most accurate price estimate please call your local Petco grooming salon.
| | | |
| --- | --- | --- |
| Mixed Dog Breed Size and Hair Length | Cost of Bath Only ($) | Cost of Bath and Hair Cut ($) |
| Small with short hair | 34 | 59 |
| Small with long hair | 54 | 82 |
| Medium with short hair | 45 | 73 |
| Medium with long hair | 54 | 82 |
| Large with short hair | 52 | 87 |
| Large with long hair | 62 | 99 |
| Extra-large with short hair | 62 | 106 |
| Extra-large with long hair | 76 | 128 |
Besides baths and haircuts, Petco provides other services at the prices shown below in the table:
| | |
| --- | --- |
| Service | Price ($) |
| Nail trim and buffing | 20 |
| Nail Trim | 12 |
| Teeth brushing | 12 |
| Breath refresh | 12 |
| Face feet and fanny trim | 15 |
| Ear cleaning | 12 |
Petco aims to provide all-around grooming services for dogs and cats. The store, therefore, classifies grooming services under four main categories;
Breed-specific haircut
Bath for every breed
Customized packages
Walk in services
Self-service dog wash
Bath For Every Breed
A clean coat boosts the image of a dog. Besides improving the appearance, grooming helps in minimizing pest infestation.
Petco groomers suds dirt, debris, and oil during baths. The bathing process improves the feel and look of the pet.
The bath package includes the following:
Deep cleaning shampoo treatment
Brush out for 15 minutes
Blow dry
Nail trimming
Gland expression
Scented spritz
Breed Specific Haircut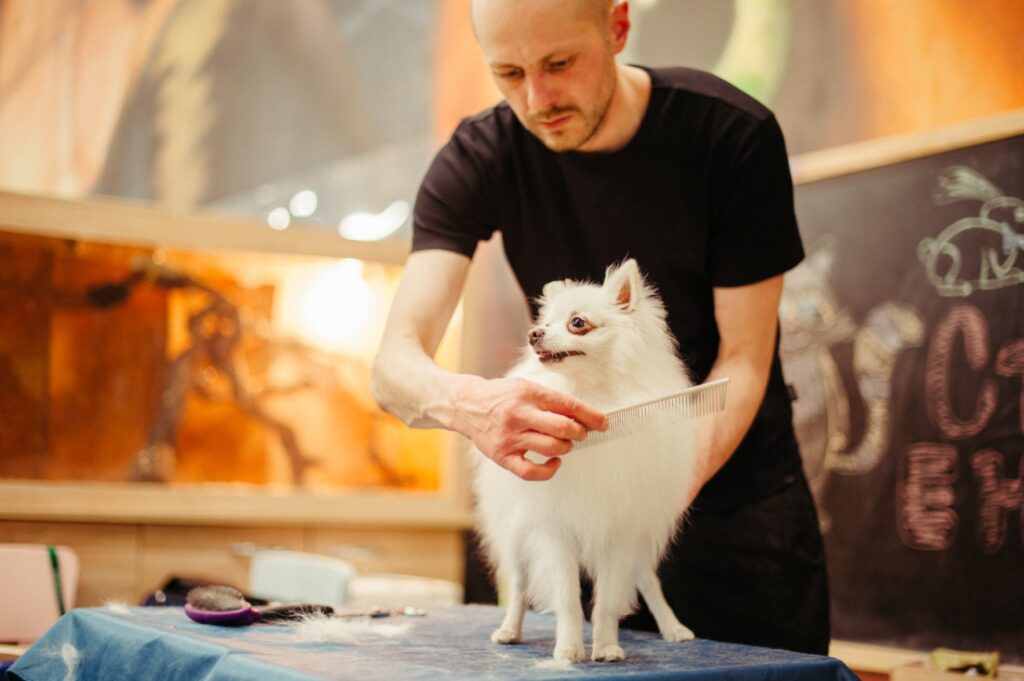 Besides proper diet, regular grooming contributes to good health for your pet. It also eliminates the chances of matting.
Petco grooming salon tailors its haircut to suit your dog's breed. Further, you can suggest a personal haircut style for your dog. In the end, the professional breed-specific haircut awards your dog a neat and beautiful appearance.
The breed-specific haircuts package entails the following:
Cut and style
The deep cleaning shampoo treatment
Brush out for 15 minutes
Blow dry
Nail trimming
Gland expression
Scented spritz
Pricing for Baths and Haircuts
Customized Package
The customized package addresses a particular problem with your pet. It further divides into the following categories:
Essential Plus
When you choose the essential plus package, you enjoy the following services:
An upgraded shampoo and conditioner
Teeth brushing
Paw balm
Nail buffing
Price: essential plus package attracts an additional cost of $24.
Calm and Refresh
Using a mixture of lavender shampoo, conditioner, and spritz, Petco groomers refreshes and calms your pet. In addition, you get services such as paw balm, teeth brushing, and buffing of the nails.
Price: The calm and refreshing package attracts an extra cost of $26.
Soothe and Repair
If your dog has dry itchy skin, then the soothe and repair package is worth considering.
The package provides a solution developed by a veterinarian to address the itchy and dry skin problem.
Price: For an additional cost of $26, you get to enjoy the soothe and repair package.
Flea Cleanse
Flea infestation on a pet induces constant scratching and may cause fur loss. You can address such a problem by settling on the flea cleanse package.
In detail, it avails services such as:
A natural medicated or flea shampoo
Moisturizing conditioner
Teeth brushing
Paw balm
Nail buffing
Minimize Shedding
Shed Release
A dog or cat that undergoes excessive shedding litters everywhere with its fur. However, you can address that issue by purchasing the shed-release dog grooming package.
When you chose the package, you enjoy a bunch of services:
Removing loose undercoat using FURminator
Shed-reducing shampoo treatment
Thorough brush-out
Hydrating aloe treatment
Price; all that comes at an extra cost of $20.
Shed Release Plus
This package lets you enjoy more than simple shed treatment. It offers you grooming services such as shed release, teeth brushing, and nail buffing.
Walk-in Service
If you need an essential service for your pet, you don't need an appointment with the Petco store. Instead, make use of the walk-in service.
The walk-in services include;
Mini Make Rover
At the prize of $22, the mini make rover offers you;
Nail trimming and buffing
Ear cleaning
Paw balm
Scented spritz
Mini Make Rover Plus
It includes all the services provided by mini make rover plus teeth brushing or breath refresh. All that for $25.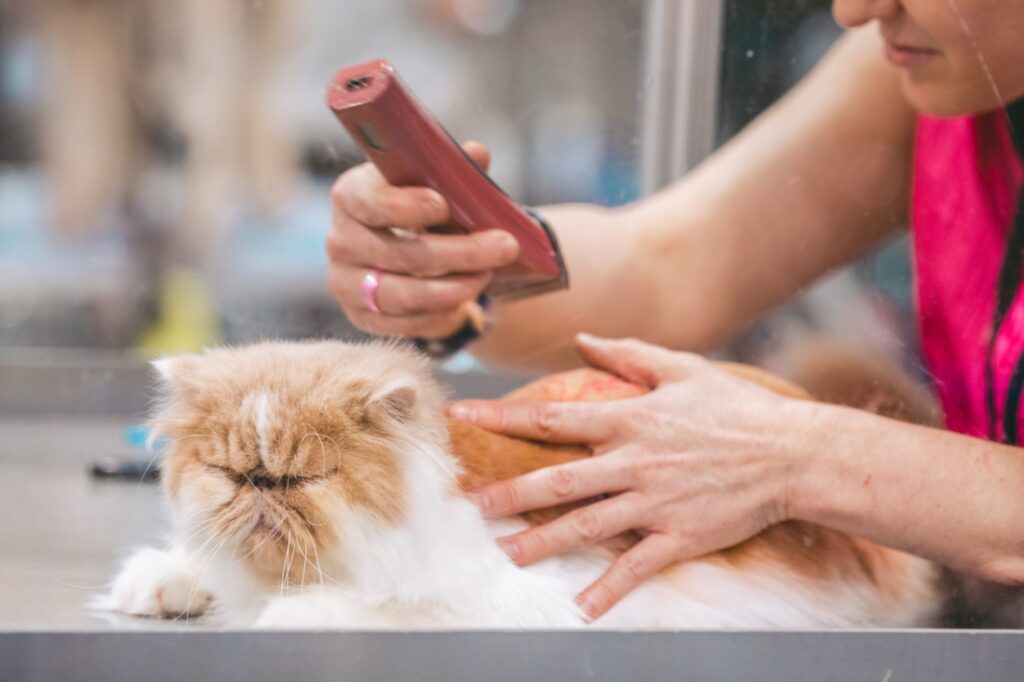 Why Consider Petco.com Grooming Services?
Petco grooming salon has a dedicated team that strives to provide top pet safety and care services. The team comprises a veterinary medicine director and skilled personnel in animals' behavior, ethics, and care.
With the help of the dedicated team, the salon has put in place several safety measures:
Comprehensive Check-In Care
Every pet that checks in at Petco grooming salon undergoes a 7-point check care procedure. The initial comprehensive check aims to unearth any abnormal feature or symptom on the animal. And if the experts notice any anomaly, they recommend you to the veterinarian.
Rumps and Steps
Accidents can occur whenever a pet walks in or out of the bathtub. The risk is highest for extra-large dogs or puppies. That's why the salon has erected rumps and steps to minimize the chances of such accidents.
Up to Standard Kennels
Every kennel at the Petco store reflects the top industry standard. That is true regarding safety, comfort, and cleanliness.
Comfortable Posture While Grooming
During the grooming exercise, your pet requires a comfortable posture. So, Petco salon employs a groomer's help tool. That way, the pet enjoys easy body and head control.
Conclusion
Whether through the Petco App or website, you can book an appointment and let your pet enjoy quality grooming service.
From baths to a haircut, teeth brushing, nail buffing, and trimming there's much in store for your pet. The Petco grooming prices vary according to the dog breed and the hair length.
Without booking an appointment, you can drop by the salon or store and choose the walk-in service your pet misses.