Yorkies are gorgeous pets and popular for their loving nature. If you live in an apartment or a small place, Yorkies can be your best pet fellows. The flowing coat is the most appealing feature of this breed that can cause health issues if you don't care for regular grooming.
If you want to bring a Yorkie home, you might think, how much does it cost to groom a Yorkie? It may cost $40-$100 to groom a Yorkie. The price of a full grooming package at Petco and Petsmart is between $40-$75.
This post is all about the average Yorkie grooming cost. Plus, you'll find out how much it costs to groom a Yorkie at Petsmart and Petco.
Average Yorkie Grooming Cost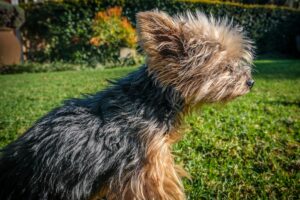 The average Yorkie grooming cost ranges between $40-$100. It also depends on the dog's weight and the condition of the coat at the grooming time. Grooming prices also vary from state to state.
Usually, a basic dog grooming package includes a bath, nail trim, and ear cleaning, ranging between $40-$80.
A mobile dog groomer may charge $75 or more depending on the travel expenses to reach your home or workplace.
If you maintain a regular care schedule for your dog, the grooming cost will be lower. If you don't have time and patience to groom your dog at home, take it to the groomers once every month or after 6 weeks.
You can save a fair amount on professional groomer bills if you purchase regular dog grooming tools and products. You can get good quality nail trimmers or clippers at $10-$30.
Shampoo, conditioner, and ear solution will never break your bank since you buy them semi-regularly. All small breed dogs may face dental problems, so regular tooth brushing is recommended to maintain oral hygiene. Your Yorkie will need a groomer's visit for a regular haircut, which will cost between $30-$40.
The table below shows the average grooming cost of a Yorkie for individual service.
| | |
| --- | --- |
| Yorkie Grooming Service | Average Cost |
| Bath | $30-$50 |
| Nail trim | $10-$20 |
| Cutting and hair trimming | $30–$40 |
| Anal Glands | Under $50 |
| Teeth Brushing | $10 |
| Full Grooming Service | $45-$75 |
How Much Does it Cost to Groom a Yorkie at Petsmart?
The cost of grooming a Yorkie at Petsmart is around $76. The price can vary depending on the coat condition, breed, and weight.
Petsmart offers different grooming packages and individual services for small, medium, and large dogs. The cost of a bath for a small dog is $40 at Petsmart.
The full grooming package at Petsmart includes nails, paws, teeth, ears, and more. You can expect $45-$75 for full grooming of your Yorkie.
How Much Does it Cost to Groom a Yorkie at Petco?
A complete grooming package for a small dog at Petco costs between $45-$75. The price can vary depending on your pet's breed and overall look. Bathing a Yorkie will cost around $25-$35. You will need to pay more for any upgraded services.
For instance, the price for teeth brushing and nail clipping is $10. Hair trimming and cutting cost $30 to $40. In short, you will need to pay more for any extra service. On average, the cost of grooming a Yorkie Petco ranges between $30-$90.
How Much Does it Cost to Cut a Yorkie's Hair?
The cost to cut a Yorkie's hair at a local pet salon is between $30-$45. It depends on your dog's coat condition and weight. A groomer may charge more for an extremely matted coat.
However, the price will be lower for a Yorkie with well-maintained hair. The average haircut price at Petsmart and Petco are almost the same. Most owners prefer a full grooming package ($45-$75) since it is convenient and affordable.
The smooth and silky coat of a Yorkie needs regular maintenance. Every pet owner can't afford the cost of frequent groomer visits. It is better to take care of your Yorkie's coat at home. Buying a pet grooming kit will save your dog's yearly groomer cost.
How Often Do You Need To Groom a Yorkie?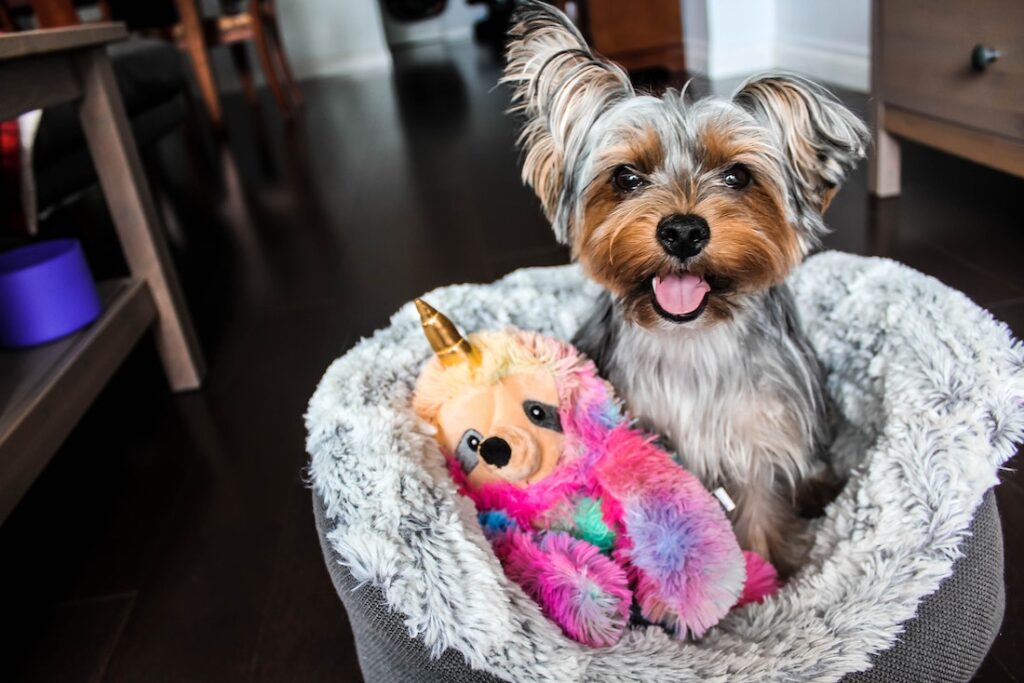 A Yorkie should be groomed every four to six weeks or after a month. Trim the nail at least every two weeks. Use eye wash pads to keep your dog's eyes clean. Also, use a cotton ball and ear cleaner to clean the debris built up on the outer side of the ears.
A weekly bath and regular brushing keep the coat clean and tangle-free. The coat of a show Yorkie needs to be trimmed to keep it level with the floor. Brush your dog's teeth regularly to maintain oral hygiene. Don't dry to detangle a Yorkie's severely tangled coat. Always seek professional help to avoid pain and discomfort.
Regular cleaning habits will cut the groomer's cost and keep the dog happy and healthy.
Final Thoughts
If you own a Yorkie or planning to bring one home, you'll be all clear about how much it costs to groom a Yorkie. On average, a Yorkie grooming cost ranges between $30-$100.
It can be high or low, depending on your dog's coat condition. Local grooming salons usually charge between $30-$75 based on your dog's size.
You will have to pay more for mobile pet grooming services. Overall, the full grooming package is between $40 to $75. However, premium services and upgrades will have additional charges.