As a pet owner, you love enjoying hugs and cuddles with a well-groomed and pleasant-smelling pet, right? But if your pet is getting messy with tangled coats and knots, it doesn't look nice. Of course, it needs a thorough grooming session. Before you head to a pet grooming salon, you might wonder how long it takes to groom a pet? Just like you spend hours at a salon to look pretty, your pet may take more time since it will not sit still as you do.
So, how long does pet grooming take? The grooming time depends on the pet's type, size, coat, health, attitude, and previous grooming condition. On average, it may take as little as 20 minutes and as long as 1 to 3 hours to groom a pet.
If you've planned to take your pet to a grooming session and want to know how long it will take, this post is for you. Moreover, you'll find how long it takes to groom a cat and dogs such as Goldendoodle, Cocker Spaniel, etc. Plus, the average grooming time at Petco, Petsmart, and Groomers.
What Factors Influence The Pet Grooming Time?
Pet makeover involves bathing, cutting, trimming, de-infestation of coat, spa, and beauty treatments. Professional pet groomers spend years learning grooming techniques. Their first and foremost priority is to make your pet comfortable in the salon's environment. Therefore, it may be time-consuming since any hurry burry can injure your pet. Furthermore, if your pet has behavioral issues, a groomer slows down the makeover process to avoid any mishap.
Several factors influence the pet grooming time. Let's have a look at the common ones.
Required services
The grooming timing can be more or less depending on the services you need for your pet. For instance, a simple bath or nail trimming will take 20 to 30 minutes. However, a complete grooming package will take 3 to 4 hours.
Pet's attitude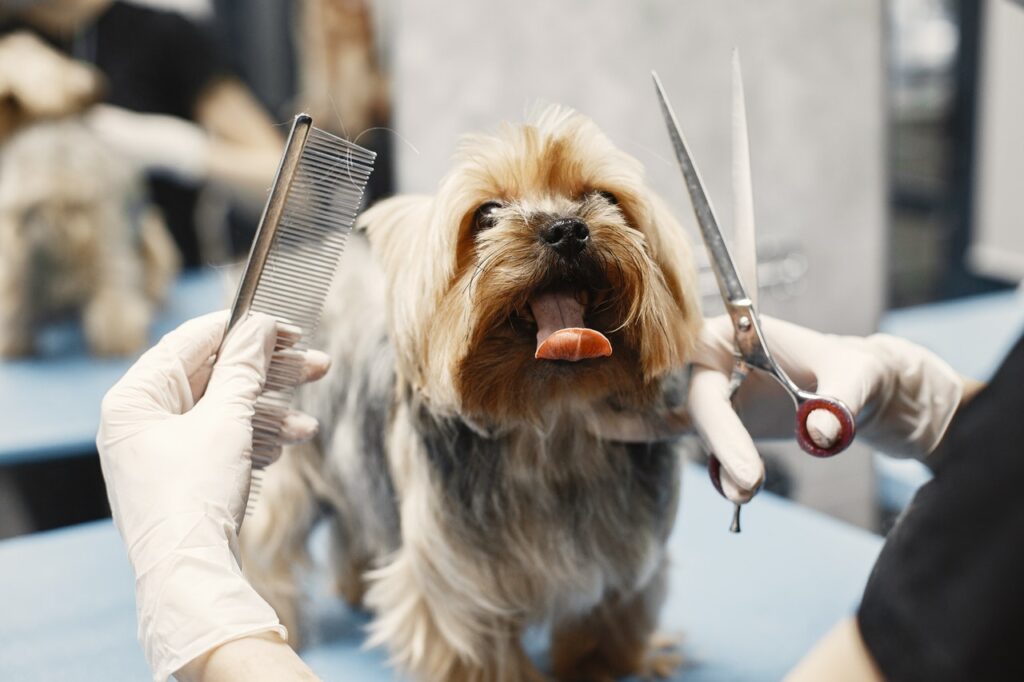 Some pets enjoy grooming while others have fears with water and the sound of clippers or scissors. Some hate a blow dryer. If your pet sits calm and allows the groomer to do his job, the grooming process will take less time. However, if it creates havoc at the groomer's table, it may take more time than you expect. Sometimes accidents and injuries can happen no matter how hard the groomer tries to be careful. It will prolong the grooming process since your pet's health is the priority of every pet salon.
Queue at pet salon
Often, the groomers that handle one pet at a time have a long queue of visitors. That's why you may need an extra one to two hours to wait until your turn.
Beauty Treatments
Besides regular grooming services, if you want extra beauty and spa treatments for your pet, such as hair coloring, nail paints, hair styling, relaxing baths with essential oils, it will need more time.
Pet breed
Some pet breeds have long coats while others have short. It also influences the grooming time since a long coat requires extra care while trimming. Certain breeds have a fur type prone to tangles and knots. If you don't comb them regularly, it will take more time to de-tangle at the groomers' place. Similarly, the pet size matters a lot since a smaller animal needs less time bathing and trimming.
How Long Does A Dog Grooming Session Take?
If your dog is going to take its first grooming appointment, you'll need to keep aside a few hours from your busy schedule. Therefore, it is critical to know how long a dog grooming session takes? A dog grooming session may take a minimum of 20 minutes and a maximum of 3 to 4 hours, depending on the services you want to avail.
Simple nail trimming, shampoo, or bath will take 20 to 30 minutes. However, if you've booked a complete grooming package for your dog, including de-infestation, bath, blow-drying, brushing and clipping, beauty cuts, hair styling, it will take 3 to 4 hours.
How Long Does It Take Groom A Small Dog?
If you own a small dog breed having a low maintenance coat, it will require 20 to 30 minutes of grooming time. However, some small breed dogs have thick and curly coats that require more cutting and trimming. A few small dog breeds need a weekly bath and grooming session to keep them in good shape.
Another query frequently asked by small breed lovers is," How long does it take to groom a Cocker spaniel? The short answer is; Cocker Spaniel is a small sporting breed. It needs special attention to the ears and requires a weekly bath and grooming session to stay in good shape. Therefore, it may take 1 to 2 hours to groom a Cocker Spaniel, depending on the services your pooch needs.
Similarly, Goldendoodle is a miniature or toy breed, and its coat is prone to getting matted areas and dreadlocks. Its matted fur may take more grooming time than other smaller breeds at a pet salon. So, it may take 2 to 3 hours to groom a Goldendoodle, depending on its coat condition.
How Long Does Dog Grooming Take At Petsmart?
Petsmart provides exceptional grooming services for cats and dogs in the U.S. If you're planning to take your dog to Petsmart, you might need to know how long dog grooming takes at Petsmart? Depending on your selected services, it takes 2 to 4 hours at Petsmart to groom a dog.
They also provide on-demand pet expression services using stenciling, chalking, and feather grooming techniques. Furthermore, they offer a reasonable price to groom a small, medium, and large-sized dog or a cat.
How Long Does A Grooming Take At Petco?
Petco is a pet health and wellness company based In the U.S. If you've booked a pet grooming appointment and wondering how long a grooming session takes at Petco, here's the answer. The average grooming time at Petco depends on your pet's coat and requested services. Therefore, it is hard to describe the exact completion timing.
However, you can expect that simple services like nail trimming or a bath may take 1 hour at Petco, and a complete grooming package may take 3 to 4 hours, depending on your pet's size.
How Long Does A Cat Grooming Take?
Your cute furballs, yes we're talking about pet cats, also need to visit a salon to stay neat and healthy. So, do you have any idea how long cat grooming takes? On average, a cat's grooming takes 2 to 2.5 hours at the salon. Sometimes, cats need extra breaks during their makeover. Therefore, groomers may require additional time to carry out the process carefully, considering your pet's safety.
However, smaller services such as nail trims and sanitary trims only need 10 to 20 minutes. If you have plans for an entire grooming session, you should spare at least 3 to 4 hours.
Final Thoughts
Grooming is crucial for the overall health and well-being of your pet. Besides regular home grooming, your pet friend also needs a trip to the salon for thorough grooming, ensuring good hygiene and a healthy coat. For small services such as nail trimming, a little fur trimming, a simple bath and, combing, the grooming session may take 20 minutes to 1 hour. However, for a complete grooming package at the groomer's place, you can expect that it will take an average of 3 to 4 hours.