After giving them all your love and care and keeping their eating habits in check, maintaining your pet's hygiene is the key to their happiness. Making sure their coat is shiny and healthy, their nails are clipped, and their ears are squeaky clean is the best way to keep them comfortable and safe from health problems.
If you're anxious about grooming your pet or unsure if you're prepping them the right way or maybe just on the lookout for some expert advice, we have compiled a few much-needed Q&As to put your mind at ease.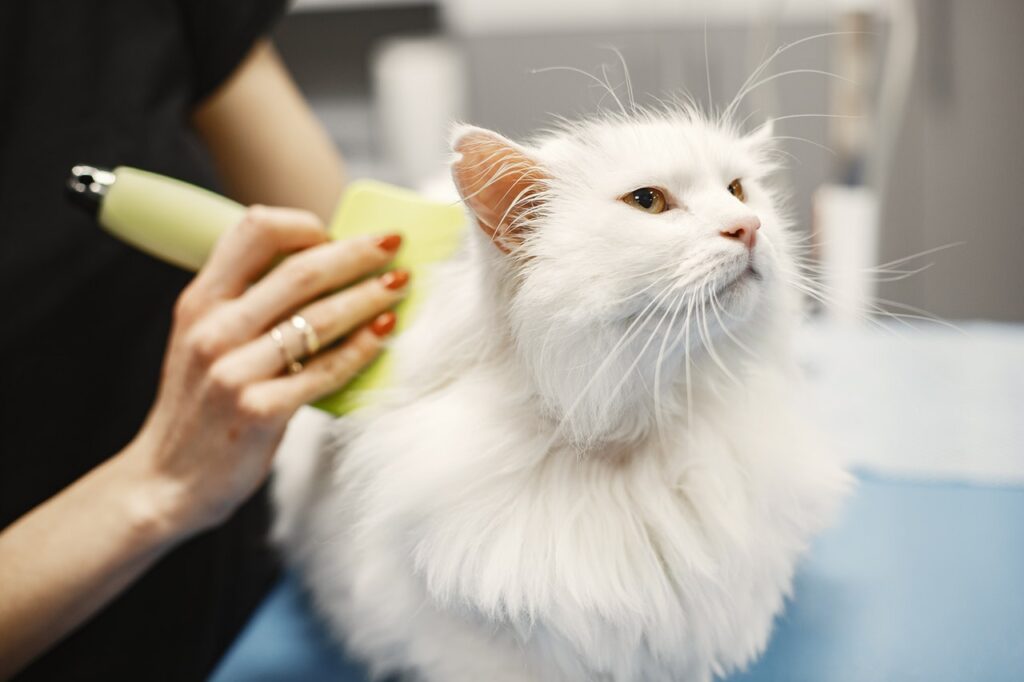 Q. What should I look for in a pet stylist?
The key to relaxing your pet to its surroundings is someone with a soothing voice and compassionate approach to its health and hygiene needs. A great groomer will understand your request, make suggestions according to their expertise, and, most of all, will be capable of building a great connection with your pet.
When looking for a pet stylist, you should look for qualities like patience, detail orientation, and extroverted nature.
Moreover, it is better to put your trust in a service that has been running for some time with a welcoming environment and the right tools to assist your furbaby.
Q. When should I take my puppy in for their first visit?
When you've decided on a groomer, you should take your dog to the salon for an orientation visit. This should be scheduled any time after two weeks have passed from their last vaccination, typically when they hit the four-month mark.
It should help introduce them to the sights, sounds and smells of the new environment. Orientation visits take about twenty minutes and are offered free of charge by most salons. During this, a professional also helps you schedule appointments, listens to your needs, and learns more about your pet's habits.
Q. How do I prepare my pet for a grooming session?
Preparing your pet for grooming usually involves caring for them hands-on from the beginning, like playing with their paws, stroking their chin, ears, and fur, and inspecting the insides of their mouth. Keeping a habit of regularly brushing them will also get them accustomed to grooming.
All in all, you should be aware of your pet's personality traits to avoid any nasty last-minute surprises and make sure your pet is toileted before going in for a groom.
Q. Should I feed my dog before grooming?
No, it is not necessary to and mostly advised not to feed your dog the day of and even the night before your grooming appointment. This is because grooming is not a natural thing and is often very stressful for your pet, especially if they're older.
Experts often compare it to going to the dentist, being just as important but not that liked. So, it is best not to bring your dog in with a full belly and heightened nerves with a full day of grooming ahead.
Q. Should I walk my dog before grooming?
Contrary to popular belief, walking your dog before taking them to the salon makes the process even more relaxing.
In fact, taking your dog for a walk, run, visiting a dog park, playing with them, or spending some time at a doggy daycare are all excellent ways to turn their mood around in no time. These also help release anxious energy, making it a much more enjoyable process for your pup.
Q. What should I bring with my pet?
You need to bring very limited essentials with your pet to a groomer. Dogs should be brought with a lead and collar, and it is often a good idea to pack your pet's favorite toy.
Furthermore, you should list all special needs, ailments, problems, and ongoing treatment to inform the groomer beforehand. This will help them ensure your pet's comfort at all times and avoid any sensitive or injured areas during cleaning.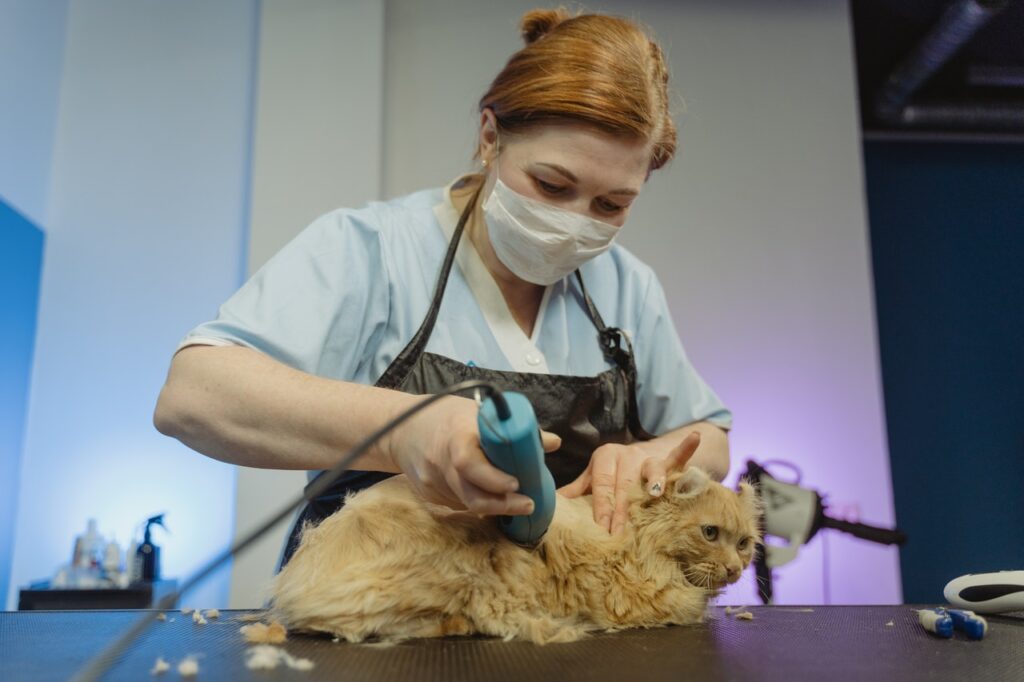 Q. How often should cats be professionally groomed?
You should take your cat to the salon once every 4-6 weeks or 8-12 weeks, depending on the length and thickness of their fur. Shorter, finer hair requires much less maintenance than a long thick coat of fur.
You will also have to consider claw growth to save furniture and humans from getting scratched time and again.
If your pet's fur and nails don't grow at the same rate, you should consider making multiple appointments for varying services.
Q. How can I get my aggressive pet groomed?
Aggressiveness may be in your pet's nature, evoked by being in a new environment or from old age. Whatever the reason, an aggressive pet is often a hassle when it comes to grooming. However, in the hands of a professional, nothing is impossible.
You should first give a normal grooming session a go. Try accompanying them and pacifying them with treats. If that fails, consulting your vet for sedatives or going to a vet with in-house grooming and having your pet completely asleep during the process is an option. However, both these alternatives are risky and often expensive.
Q. How long does the grooming process take?
It is best not to schedule a pet grooming session if you're on the run because they can take anywhere from half an hour for a short trim to three to four hours for a complete session.
A full grooming session usually involves clipping nails, removing dead fur, de-knotting, cleaning paws, ears, and claws, washing and conditioning, blow-drying or brush drying, and applying finishing products as requested.
Conclusion
Considering all of your pet's traits and habits, keeping their tummy in check, and choosing the right compassionate groomer will help keep both of your nerves at bay. You should look up reviews from other pet owners about their experience if you have any doubts about the salon.
If you have any more concerns, the best person to consult is your trusted veterinarian or your chosen grooming professional.