Electric grooming tables make the entire grooming process easier in more than just one way. Although mostly pricier than non-electric versions, they make the grooming experience less stressful for both you and your dog.
The most significant benefit of electric tables is probably the quick motorized lifting so that you can adjust the grooming tabletop according to your pet's height.
This is especially helpful in avoiding back pains from holding up your pet while they're being groomed. Moreover, the safety and comfort of your furry friend are also ensured, which is always a good dog parent's number one priority.
Note: we make a small commission at no extra cost to you, if you make a purchase through links on this page.
Table of Features
| | | | | |
| --- | --- | --- | --- | --- |
| Table Name | Weight | Tabletop Size | Main Features | Check Price |
| Jintangli Pet Dog  Electric Grooming Table | 119 pounds | 50″ L X 26″ W | Easy Assembly, Easy To Clean, Anti Slip Table Top, Anti-Static Surface, Waterproof, Easy To Clean, High-Quality Construction, Movable Arm, Feet With Added Stability | |
| Shelandy Electric  Pet Dog Grooming Table | 105  pounds | 45″ L X 25″ W | Anti Skid And Waterproof Desk Top, 'X' Style Legs, Adjustable Leashes Included, Leg Levelers Included, Straightforward Assembly, Easy To Clean, Quick Motorized Lifting | |
| Zarler Deluxe Electric Pet Grooming Table | 119  pounds | 49.6″ L X 26″ W | Durable, 'X' Style Legs, two sockets, Adjustable Arm, Rubber Pedals, Textured Rubber Tabletop, Smooth Lifting, Foldable, Easy to Clean, Noose and Wire tray included | |
| Soar Flash Pet Dog Grooming Table | 119 pounds | 49.6" L x 26" W | Sturdy Build, Fast Lifting, Non-slip Feet, Easy Control Rubber Pedals, 2 Sockets, Adjustable Arm, Waterproof Anti-static  tabletop,  Easy to Clean | |
| Flying Pig Electric Lift Dog Grooming Table | 127 pounds | 45.8" L x  25.7″ W | Stable frame, Scratch Resistant, Silicone Tabletop, Smooth Lifting | |
| Lyromix Adjustable Pet Large Foldable Dog Grooming Table | 18 pounds | 46" L x 24" W | Burly, durable, easy to clean and assemble, adjustable for different sizes | |
| ENWEI Pet Dog Grooming Table | 116.8 pounds | 50"L x 26" W | Electric Adjustable Lift, Non-slip Rubber Mat, Shelves, Hooks, Two Three-pin Sockets, Two USB Sockets | |
Jintangli Pet Electric Grooming Table
The Jintangli Pet Electric Grooming Table is a reliable grooming solution made for your convenience, featuring all you need for a safe and comfortable grooming experience for your pet. This is exactly what makes it so popular among customers, having a 4.5-star rating on Amazon.
The Jitangjili table features a premium-grade construction. It's fabricated while keeping customers' ease a priority and, therefore, can be assembled without much effort.
Keeping in mind the rigorous quality check process that the parts go through, the durability and quality of the table are top-notch! If we could pinpoint just one quality of the table, it would be ease of use as there are numerous features like a non-slip table surface, easy assembly and cleaning, and quick lifting to make sure that the customer gets the best of the best!
On top of that, the Jitangli table is waterproof, which makes it very easy to clean and keeps the owner stress free! In addition, the table is equipped with two sockets and rubber layered legs to provide optimum comfort and quality to the user.
Pros:
Easy to assemble
Easy to clean
High-quality build
Great value for money
Non-slip and waterproof tabletop surface
Rubber layered legs and control panels
Quick lifting
Equipped with two sockets
Cons:
Customers have sometimes received a damaged product when shopping from Amazon
SHELANDY Pet Dog Electric Grooming Table
The Shelandy Electric Grooming Table features a foldable design that doesn't take up a lot of space and can be simply put away after grooming and drying your dog.
It can also be moved around quite easily, being lightweight although still quite sturdy. The assembly process is very straightforward, too; simply unfold the legs and attach the arm.
The table surface is made out of textured rubber that is waterproof and prevents slipping and accidents. Moreover, it is claimed to be a non-hair stick which makes the cleaning process even easier.
Pros:
Non-slip and water-resistant table surface
'X' style legs provide a steady surface
Leg levelers for a balanced plane
Easy to clean
It can be assembled super quick
Great value for money
Grooming arm and restraints included
Cons:
Some customers find the grooming arm to be unstable
Zarler Deluxe Electric Pet Grooming Table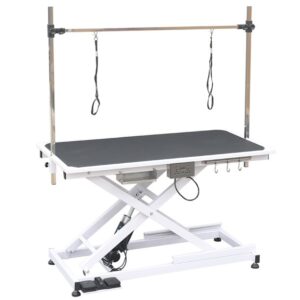 If you're looking for a more professional table, Zarler's Deluxe Electric Pet Grooming Table is the way to go. Made from the best quality materials, this premium-grade table can be trusted to provide the best experience.
The Zarler Deluxe features a classy black and white exterior with a solid and sturdy build. The 'X' style legs ensure added stability and prevent skidding, while the smooth rubbered tabletop is designed to keep your pet protected and comfortable.
The table surface is also anti-static and can even be removed, so it is very easy to clean. Setting up the table is also reasonably quick, and so is putting it away, thanks to the foldable design.
The powerful motor enables lifting within just a few seconds, which saves you from the hassles of manual adjustment. Simply use the rubber padded foot pedals to adjust the height according to your preference.
Additionally, it comes with a wire tray that you can use to hold scissors and combs.
Pros:
Sturdy build
Easy to clean and maintain
Smooth rubber tabletop
Anti-slip feet that ensure steady grooming
The foldable design enables easy storage
Dual foot pedals for lifting
Tray, arms, and noose included
Cons:
Some customers find the overhead bar to be flimsy
Soar Flash Pet Dog Grooming Table
If you are looking for a professional high-quality pet dog grooming table that is efficient and also eye-catching, Soar Flash is an amazing choice. It has been built keeping in mind the range of size of pets that come to the vet.
Featuring a hydraulic press, it can elevate from 8 inches to 36 inches in a matter of seconds. It is available in three different colors and multiple sizes to create the best fit for all.
This table is best suited for pet salons as it features a socket console and tool table with a USB connection to connect various grooming devices. It also has adjustable overhead arms and three stainless steel looks which are extremely durable and works efficiently for pet groomers.
On top of that, it features a static-free waterproof surface and anti-slip wear-resistant feet for the best stability and has also passed safety and security checks.
Pros:
Well-built and durable
Waterproof and easy to clean
Anti-static surface
Movable arm
Time-saving
The textured silicone tabletop provides extra grip
Foldable X-style legs
Cons:
It might be frustrating for beginners due to its advanced features
No clamps to secure the pet
Flying Pig Electric Lift Dog Grooming Table
If you're looking for a sturdier table, the Flying Pig Electric Lift Dog Grooming Table is the best option! Made of premium-grade materials, this table can be trusted to provide the best experience.
It features a heavy-duty motor that enables it to rise from 11.25 inches to 40.65 inches and supports pets up to 220 pounds of weight. It has easy access to foot control to ensure a comfortable and hassle-free experience.
On top of that, it is technically efficient as it doesn't require an extension cord for connection since the provided cable is long enough.
Pros:
Sturdy and reliable
No more back pain for owners
Suitable for both big and small dogs
Long cable
Cons:
The arm of the table is inconvenient for some users and difficult to adjust
It might seem heavy or too oversized to setup
Lyromix Adjustable Pet Large Foldable Dog Grooming Table
The Lyromix Adjustable Pet Large Foldable Dog Grooming Table provides great value for its price. It's available in two colors and multiple sizes to cater to all types of pet owners.
Holding up to 330 pounds of weight, it is sturdy enough to keep things manageable and aligned and also has two nooses and adjustable arms for all sizes of pets.
Along with an anti-skid texture on the surface to keep pets from slipping, it also includes rounded edges to prevent injuries. This grooming table is an excellent investment if you're looking for something pocket friendly and reliable with a sturdy metal body.
Pros:
No struggle to hold the pet still
Reduction of back strain
Better solution with an easy setup
Preferred for Doodles
Cons:
The legs of the table might be a bit difficult to lock
The quality of the product might be questionable for some customers
The height of the bar might be disappointing and unsafe for shorter dogs
Enwei Pet Dog Grooming Table
The Enwei Pet Dog Grooming Table is a great option if you're looking for a grooming table with maximum ease of use. It is high-quality, non-slip, and anti-static to ensure maximum productivity without hassle.
This Enwei table features an electric lift X style design for maximum comfort for the groomer. The table can rise from 8 inches to 36 inches in a matter of seconds.
Besides a rubber mat that prevents slipping and other injuries, it has sturdy shelves, three hooks, two three-pin sockets, and two USB sockets on the tabletop to increase your grooming productivity and efficiency.
Pros:
The upgraded design provides maximum comfort
Preferred for smaller dogs for a satisfying experience
Adjustable bars for different-sized dogs are a plus point
Good add-ons (shelves, hooks, and sockets)
Cons:
Not considered safe for larger dogs that might slip and lead to accidents
Electric Grooming Tables for Dogs – How to Choose the Best
With an increasing variety of options available, the right dog grooming table is best chosen carefully. The following factors can help you determine which table would suit your requirements:
Folding/ Non-Folding
Folding tables are generally inexpensive and often more portability than non-folding ones. If you're an occasional groomer or have space restrictions, we would recommend the foldable kind.
Table Surface
Grooved rubber surfaces on tables, while providing excellent footing for your dog, aren't easy to clean. A pebbled surface provides a better alternative, holding less dirt while enabling a good grip for your pet's paws.
Tables with non-skid, removable mats on the surface are also good options since the mats can be washed and the surface kept hygienic.
Table Arms and Restraints
Harnesses and nooses are great safety factors that come with many electric dog grooming tables to keep your pet steady if they ever panic during the grooming process. While most models have a single arm, you can find dual-arm tables if you need to secure and groom a large breed. Most table arms are adjustable, but it's better to check before you invest in one.
Dog Size vs. Table Dimensions
An obvious factor to consider is the table's dimensions – will they be enough to accommodate your dog? Small breeds can do well with more compact options, but make sure the dimensions are big enough if you're planning on grooming large dogs.
Additional Features
From lighted tabletops to improve visibility to built-in electrical outlets for plugging in clippers, there are a host of extra features in the various electronic pet grooming tables available in the market. Custom colors and storage cabinets are also interesting add-ons to many tables.
Since these come for an additional price, you'll need to decide whether the extra bells and whistles are worth the cost.
Conclusion
An electric grooming table is the best option for you if you're looking for something that saves your time and gets the job done efficiently without costing an arm and a leg. Most of the above mentioned products ensure the best quality and comfort for the pet groomer and the pet.
With very high customer ratings, these tables also provide great results and buyer satisfaction. Whether you're a dog parent or a pet salon owner, you'll find one that suits your needs among them.