Drying your dog with a towel is time-consuming, exhausting, and doesn't give satisfactory results. The best stand dryers for dog grooming make the process enjoyable (for the pet and you) and fast.
Unfortunately, some stand dryers are noisy and vibrate excessively. Find below reliable, quiet, and convenient to use stand dryers for grooming pets.
Note: we make a small commission at no extra cost to you, if you make a purchase through links on this page.
Top 7 Stand Dryers for Dog Grooming
Flying Pig High-Velocity Dog Pet Stand Grooming Dryer w/Variable Air Speed & Heat
Top Features:
Size: 50 x 27.25 x 27.25 inches
Weight: 28.7lbs
Variable heat and airspeed
360 degrees rotating nozzle
The flying Pig high-velocity pet grooming stands out in sturdiness. It has a sturdy steel casing, frame, and robust motor. No wonder the manufacturer offers a one-year warranty on the product.
Its height adjustability is also simple; through a rotating knob. Depending on the dog breed that you have, you can adjust its height from 33 to 55 inches. That gives you easy reach to dogs and other pets of varying sizes.
At the top, it has an easy-to-access control panel. The controls allow you to customize the airspeed and heat level to suit your dog. Accordingly, you can tailor the air velocity and heat level to suit even the dogs with curly hair.
And for ease of using the dryer, it features a 360 degrees rotating nozzle. Also, it allows you to tilt the head up or down and suit your needs.
At the base, the flying pig stand dryer has four caster wheels widely spaced. Further, the caster wheels are widely spaced (27.5 inches apart) and lockable to increase the stability of the equipment. Moving the equipment from one point to the next is easy due to the rolling wheels.
And did I tell you that it comes with two filters and nozzles?
Pros:
Sturdy steel shell
Easy to adjust the heat and airspeed
Easy assembly
High drying power that cuts down time by half
Low noise level
Cons:
Few complaints on screws that require replacement
XPOWER Pro Finisher B-16 1/4-HP Brushless DC Motor Stand Pet Dryer- Variable Speed and Heat, Anion Anti-static / Frizz Technology- Blue
Top Features:
Size: 34.5 x 25 x 60 inches
Weight: 17lbs
Lightweight ABS frame
Adjustable airflow and heat level
The Xpower stand dryer supports convenient hands-free use. That's possible due to the 360 degrees rotating nozzle and tilt-able head that assumes different angles. It means the equipment leaves your hands free to trim or comb your pet's coat.
Through its simple-to-use controls, you can adjust the airflow (maximum of 300 CFM) and heat level (maximum 120 degrees Fahrenheit. So it's easy to tailor the machine's output to suit your pet's needs during grooming.
On top of the adjustable heat and airflow, the 13-inch long cord adds to the convenience of the stand dryer. And during use, its 5 lockable caster wheels guarantee its stability. Hence it frees you to concentrate on grooming the dog.
Unlike other ordinary stand dryers, the Xpower uses an ionic generator. It thus neutralizes static electricity and makes the pet very comfortable.
At the core of the grooming tool is a 1/4HP energy-efficient dc motor. So it promises a long life with very minimal maintenance. Further, it features 2 stage washable filters.
Pros:
Adjustable airflow and heat level
Smooth-rolling and lockable castor wheel
Foldable base
ETL certified
Dual thermal protection
One year warranty
Cons:
Produces noticeable noise level
Free Paws Dog Pet Dryer Stand with 4.0 HP 2 Heat Stepless Airflow Grooming Dryer Combo
Top Features:
4Hp motor
Flexible height from 35.5 to 51.2 inches
Adjustable heat and airflow
Metal frame with ABS insulation
At the core engine of Free paws, the pet stand dryer is the powerful 4HP motor. Therefore it generates sufficient airflow to dry even the curly and thick hair coat dogs.
You can adjust its heat settings (96 to 167) and height from 35.5 to 51.2 inches. Therefore it supports a comfortable posture and heat. And for more convenience, its bracket rotates over 360 degrees and tilts up or down by 120 degrees. From a total of 5 nozzles, you can easily choose the size that fits your pet.
Its frame boasts a sturdy metal with ABS insulation that makes it rust-resistant. And the flexible hose can stretch up to 7.9 feet allowing you to work on a wider area. During use, its plastic hand provides a convenient place to hang the dryer hose.
By engaging the hands-free drying arm, the equipment leaves your hands free to handle the pet. Its 2.5 feet power cord is long and negates the need for an extension.
Pros:
Stepless adjustable airflow
Modifiable height
Supports hands-free use
Provides multiple nozzles
Cons:
The dial-type heat and airflow settings would be more convenient
Master Equipment Flash Dry Control Stand Dryers
Top Features:
Uses 2.4HP motor
Adjustable heat and airflow settings
Head swivels and tilts
Weight: 10lbs
Size of stand 27½"D x 35″W x 60″ H
The Master Equipment Flash Dry Control  Dryer makes it easy to customize the air volume (max 83.56) and heat level (max 141.8) from the equipment.
That's because of the simple-to-navigate interface with buttons and LCD screen. With a glance at the display, you can tell the volume of air coming out and the heat level.
And in case you don't require heat, there is a dedicated button for switching it off. Driving the massive airflow is the 2.4HP motor that drives enough airflow rate for all pets' coats.
Depending on your height, you can adjust its height from 36 to 53 inches to suit you and minimize stooping down. Further, its head that swivels 360 degrees and tilts on a 180-degree plane boosts its ease of use.
Its sturdy frame and the 4-wheeled base with an anti-tip resistant feature give the pet stand dryer reliable balance. On the other hand, the dual nozzle adds to its versatility.
Pros:
Multiple heats and airflow settings
Simple to use buttons and screen display
Dual nozzles
Extended power cord
Cons:
Uses the motor with brushes that may require replacement after time
AEOLUS Powerful But Quiet Ionic Stand Finishing Dryer for Dog Grooming TD-906
Top Features:
Variable air speed and temperature
Very quiet
Metal powder-coated frame
Weight: 39.68db
Noisy stand dryers scare pets and thus make them uncooperative. That's why the Aeolus employs the powerful but extremely quiet engine, 39.8db.
Furthermore, it also taps on the energy of the negative ions to neutralize the static electricity. And so it makes the grooming process pet friendly.
Its variable heat settings range from 77 to 167 degrees Fahrenheit and a maximum air speed of 38m/s. That's why it can effectively dry the curly fur of dogs without any trouble.
Considering it weighs 39.68lbs and has 4 caster wheels, it's easy to move from one location to the next. But when in use, locking the caster wheels boost stability.
The 1HP brushless motor and powder-coated metal frame speak of the durability of the equipment. Alternatively, you can also mount the dryer on the walls.
Pros:
Pet and ear-friendly
Easy to customize the heat and airflow
Available in 4 color options
Sturdy and wobble-free frame
It supports hands-free operation
Cons:
PGOT Pet Hair Dryer, Pet Blower Full Automatic Dog Grooming, Quiet High-Velocity Dryer for Small Medium Dog and Cat
Top Features:
Cubic space of 75L
Best for small, medium dogs, and cats
Very quiet at 48 decibels
Has built-in safety features
Weight: 52.91lbs
If the noisy pet stand dryers make your dog nervous, try the PGOT hair dryer pet blower. When running it produces a pet-friendly sound level of just 48 decibels. Its cubic interior of 75L is roomy enough to contain up to medium dog breeds.
And unlike most pet stand dryers, the PGOT produces hot air that circulates in the entire cubic interior. And so it dries up all parts of the pet in less time. Besides its sturdy casing, the cage pet dryer has transparent tempered glass panes that allow you to monitor your pet during the process.
For increased safety, it has a shockproof feature. But in the event of current leakage, the safety switch automatically switches off the power.
Its smart touch screen in conjunction with the microcomputer-controlled thermostat allows seamless adjustment of heat levels. You can select your desired heat level from 68 to 122 degrees Fahrenheit.
And in a poorly lit environment, it has a warm glowing light that boosts the visibility and beauty of the unit.
Pros:
Quick-drying of a pet as heat flows from all directions
Low noise
Convenient hands-free operation
Automatic cut-off of power in case of power leakage
Elegant appearance
Cons:
Takes a considerable amount of space and has significant weight.
PETACARE Professional Rolling Stand Pet Dryer
Top Features:
Heat and air low adjustable over 8 levels
One year warranty
The flexibility of height from 47.2 to 68 inches
Rustproof stainless steel frame
Weight: 27.8lbs
Petacare pet dryer gives you complete control over the airflow and heat on 8 different levels. Better still on a low air setting, it automatically limits temperature from going excessively high.
At the turn of a knob, you can vary the height from 47.2 to 68 inches to settle on the height that suits you. For more convenience, it uses solid pipe and a flexible hose. The combination allows you to reach even the otherwise difficult-to-reach parts of the pet.
And during such moments, its flexible head that rotates over 360 degrees and tilts on a 180 degrees plane comes to your rescue. From a collection of 3 rotating nozzles, you can easily customize heat and airflow intensity to match your pet's fur.
As a sign of quality, it features a rustproof steel body, power-efficient motor, and clear LED display. At maximum settings, it produces a tolerable noise level of not more than 60 decibels.
Pros:
Wide range of airflow and heat adjustment settings
Reliable and stable stainless steel frame
Produces minimal noise level
Comes with three rotating nozzle
Automatic safe temperature sensor
Cons:
Moderately loud at high speed
How to Choose Good Stand Dryers for Dog Grooming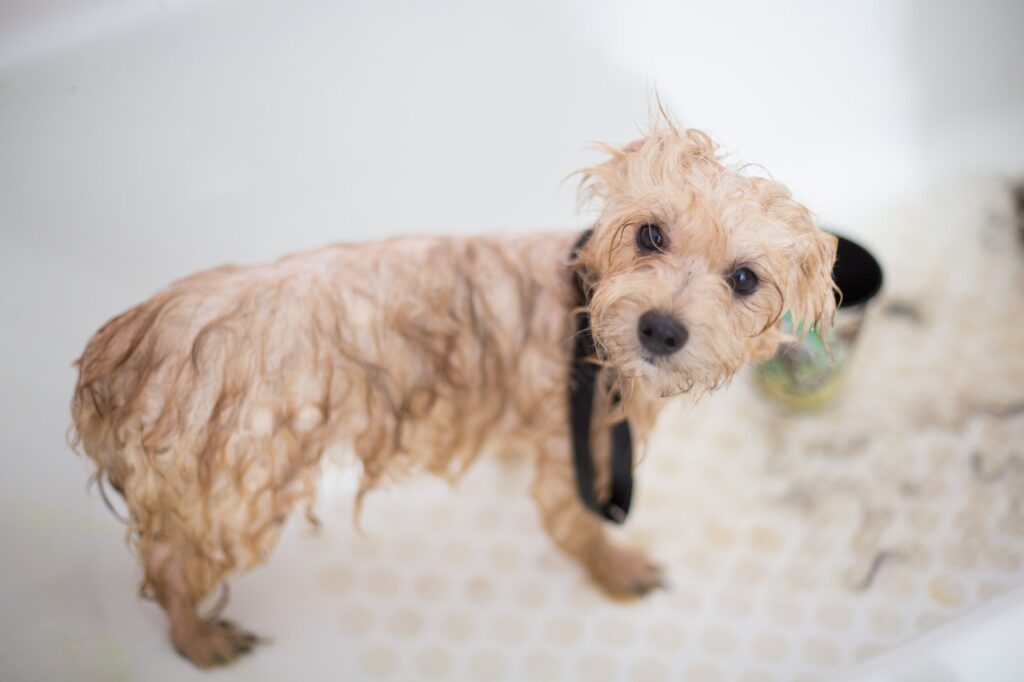 Having the best stand dryers for dog grooming minimizes the nervousness of your pet and thus makes the dog easy to handle.
Here are the core factors to consider when making your selection:
Height Adjustability
An adjustable height permits you to use the equipment on different platforms such as beds, and tables. Using the pet dryer becomes convenient as you won't have to bend excessively.
Head that Rotates and Tilts
Reaching the otherwise inaccessible parts of the pet is trouble-free when you have a head that can rotate, and tilt up and down.
Heat and Airflow Intensity
The speed and volume of airflow count. Dogs do have delicate skins. And so a high-speed of air isn't skin-friendly and produces much noise. For that reason, it's wise to settle for a stand dryer with adjustable airflow.
Similarly, an adjustable heat level is ideal. Such a setting allows you to customize the airflow and heat level to suit pups, adult dogs, and other sensitive parts of the pet (genitals).
Minimal Noise and Vibration
The best stand dryer for your pet should produce a minimal noise level and vibration. Otherwise, your pet will be too scared to come close to the machine. So consider vibration pads essential.
Sturdy Body
Occasional falls or mishandling of the equipment may happen. So select the stand dryer that has a sturdy motor casing and frame. On that note stainless steel material with rust proofing is ideal.
Ease of Use
Some features just make the stand dryers much more convenient and efficient. For instance, a piece of equipment that frees your hand makes your work easy.
Also, lockable caster wheels are valuable for adding stability to the machine. Other manufacturers also give an assortment of nozzles and hose extensions, so watch out.
Conclusion
The best stand dryers for dog grooming lets you dry your pet in minutes. So you don't have to depend on the prevailing weather conditions. Owning such a piece of equipment is a step towards making the grooming process enjoyable for your dog.
When shopping for such a stand dryer take note of its sturdiness, noise level, and height adjustability. It should also allow you to customize the air velocity and heat level.
Go through the dryers highlighted above to know the model that fits your dog.